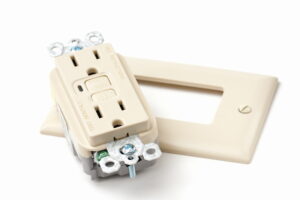 The electrical system of your household is one of the most important parts of your household. Pretty much all of your appliances require this system to function. Even gas-powered equipment typically has an electric starter or ignition. So if your electrical system is struggling, you can experience all kinds of problems within your living space.
Safety is also a concern when your electrical system isn't functioning correctly. Electrical issues of any type could pose a serious risk to your household and family members. Electrocution is a real threat, which brings us to our blog topic today. We want to ensure that you have the right outlets in place! Read on to learn more about GFCI and AFCI outlets.
How Your Outlets Provide Protection
Electrocution happens when there is a short circuit in an electrical line that exposes an individual to the electrical current. House fires are also a relatively common threat created by electrical current traveling to places it's not supposed to. This is especially pertinent as we get closer to the holidays—the time of year that people like to put up extra lights. One method to prevent electrical hazards from occurring is to make sure you have the right outlets installed by professional electricians (like our team!). We'll ensure they're put in the right places.
GFCI (Ground Fault Circuit Interrupter) Outlets
These outlets are the type that monitors the electrical current that's flowing through them at all times. If this current suddenly starts to flow in a way it's not supposed to, like into a person, then the GFCI outlet activates and cuts off all the current flowing through it. This is done so fast that it happens before a harmful amount of electricity passes through the system. These outlets are meant for areas of the home that have water exposure. So you should have them installed in bathrooms, the kitchen, and the laundry room.
AFCI (Arc Fault Circuit Interrupter) Outlets
These are similar to GFCI outlets. However, AFCI outlets protect against fire by monitoring the electrical flow within the electrical system itself. If the outlet detects something malfunctioning in the circuit, it breaks/trips the circuit to prevent further risk. These outlets are very useful to prevent threats that electrical malfunctions can cause.
Protecting Your Electrical System
Choosing the right outlets for the right spots within your home is essential to your home's electrical safety. However, these outlets are not the only thing protecting your electrical system and your home. Your electrical panel is also an important safety feature in itself. But, it needs to be professionally inspected at least once a year to make sure that it is still able to meet the electrical demands placed on it.
Generally speaking, your electrical panel should be replaced every 30–40 years, but even if you have added significant electrical components to your home in the past few years, like an electric heat pump when you were using window units before, then it could be worth it for you to look into an electrical panel upgrade!
When you need a trusted electrician in Eugene, OR, look no further than Comfort Flow Heating. Contact us today!