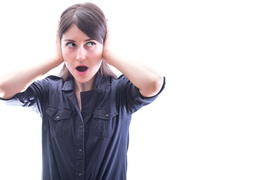 With the way technology is advancing, there may be a time in the not too far off future that air conditioners will have some component that allows them to self-diagnose when something is wrong, and alert us via an app on our own. It's really not too far-fetched of an idea when you think about it. But alas, it's simply not a reality yet.
In the meantime, we have to rely on our senses to detect when something is amiss with our cooling systems. If you feel a drop in cooling power, or see an unexplained spike in your energy bills, this can indicate a problem. Or you may see that your circuit breakers for the system's indoor and outdoor units are constantly tripping.
Another very common indicator that something is wrong with an air conditioner is the presence of strange noises. And by strange noises, we mean anything out of the ordinary humming or faint clicking you hear as your cooling system operates. So, what sort of noises should you listen for, and what do they mean?