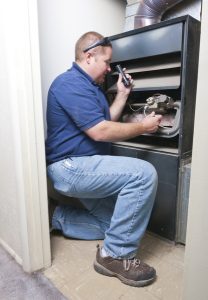 If you are investing in a furnace replacement this spring, you may have questions about the installation process. Installing a new furnace in the spring is a great idea because the system has time to settle in before the heavy-use seasons in fall and winter.
The good news is, our team are experts at furnace installation in Salem. We are answering all of your questions about furnace installation below, including how long the process takes. It's great to have an understanding of what to expect during furnace installation so you are prepared the day of. Keep reading to learn more about how long furnace installation can take and what factors influence the timeline.
Installation Timeline
Furnace installation can take anywhere from four to eight hours. It really all comes down to how complex your unique job is. For example, if we have to replace the ductwork, electrical lines, or make modifications to your gas lines, those things can take longer. However, if your connecting components are all in good working order and you are swapping out your existing furnace with a similar system, the installation can be very quick.
Initial Assessment
When our team visits your home to help you make the determination that it is time for a replacement, we complete an initial assessment so we know what needs to be done on the day of installation. We will complete a thorough review of your furnace, inside and out. Our inspection also includes your ductwork, insulation, and anything else that impacts how well your furnace can heat your home.
For example, we may talk to you about the vent placement around your home to determine if there are any air vents in awkward locations. We can easily move air vents around if you have furniture blocking airflow. Or maybe you've done some remodeling and need extra vents in certain areas of your home. These are things that we can take into consideration during installation.
Taking Out Your Old Furnace
On the day of installation, we first have to take out your old unit. Once we remove the furnace, we can take a closer look at some of your connections and the area surrounding your furnace. We may have to do some cleanup and prep before installing your new furnace. If you are swapping out an electric furnace for an electric furnace, or a gas furnace for a gas furnace, that is pretty simple. However, if you are swapping out an electric furnace for a gas furnace, or vice versa, we will have to first run those utility lines.
Installing Your New Furnace
Installing a new furnace is not as simple as plugging it in and having it work perfectly. There are steps we have to take to pressurize the system and ensure that everything is connected properly. We will spend at least an hour of our time testing everything once we complete the actual installation. We can make little tweaks as we go along to ensure that your unique furnace is set up to optimize heating for your unique home.
And our final step is teaching you how to use your new furnace. You may feel comfortable with how to operate a furnace, but we want to make sure we offer as many tips and tricks as we can. Taking excellent care of your furnace from day one is a great way to ensure that it will last for years to come, if not decades to come.
Your comfort is our business! Comfort Flow Heating serves all of Oregon, so contact our team today to schedule your appointment.