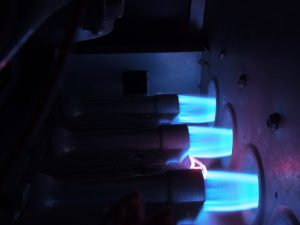 If you have a furnace that uses a pilot light, you may have heard of thermocouples. But you may be wondering, what does a thermocouple do exactly? The short answer is that it is a safety mechanism that protects your furnace and home.
If you don't already have a thermocouple on your furnace, you definitely want to invest in one sooner rather than later, and our team is here to help. Keep reading to learn more about this valuable addition to your home's furnace, and how it works. Then give us a call to schedule thermocouple installation for your heater.
What is a Thermocouple?
A thermocouple is a metal rod that extends into the flame created by the pilot light in your furnace. Before you keep reading, it is important to understand that a thermocouple is for a pilot light that actually creates a flame. Many furnaces now use electronic ignition, in which case a thermocouple would not be relevant.
Benefits of a Thermocouple
But if your furnace does still have a flame, a thermocouple would be a great investment. When the rod senses an active flame, it signals for the gas line in your furnace to remain open for heating. But that's not what makes the thermocouple so beneficial. Once the flame dies out, your thermocouple loses voltage, and the gas line closes.
The idea of the thermocouple is that if your furnace is not actively heating, the system will not continue to draw gas in. If this failsafe is not in place, gas can continue to build inside of the combustion chamber. This can lead to a small explosion when the pilot light finally lights, and it can happen every time your heater turns on. Too much gas is very dangerous and can also put a lot of strain on your furnace. These explosions can even crack your heat exchanger, which can mean an entire furnace replacement since those cracks can't be repaired.
Gas that continues to build up in your furnace can also leak out into your home if your furnace is not completely airtight. And these carbon monoxide fumes are very dangerous for your family to breathe in, especially since gas doesn't have a smell and you may not even realize you're breathing in the fumes. In addition to a thermocouple, you also want to make sure you have at least one carbon monoxide detector if you have a gas-powered furnace.
If you don't already have a thermocouple, our team can come out to look at your furnace and offer a quote for installing one. Of course, it is important to remember that nothing is foolproof. It is possible for a thermocouple to experience problems. You should still schedule annual heater maintenance every single year to check all parts of your furnace, including the pilot light and thermocouple. This is the best way to ensure your heater is always in good working condition.
Your comfort is our business! Comfort Flow Heating serves all of Oregon, so contact our team today to schedule your appointment for heater service.