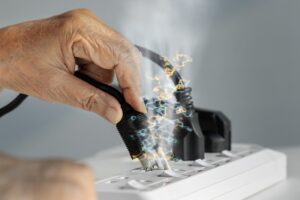 How much time do you think you spend considering electrical safety? If you're like the average homeowner, probably not much. However, this is one of those things you want to think about every now and then. And if you've come across this blog post, it probably means it's something you're thinking about right now!
Many homeowners think their living space is free from electrical hazards as long as they aren't experiencing full-on blackouts or electrical fires. But small electrical problems left unmanaged can turn into bigger problems that will cause blackouts or electrical fires. And this is what we would like to help you avoid.
Any time you need reliable and safe electrical services, our team is the one to turn to. Electrical work should only be left to trained professionals to prevent injury to you or anyone in your family. Our professionals are aware of current building codes and we understand what it takes to do electrical work to the highest standards. Read on to learn a couple of the best practices in preventing electrical problems.
Replace Your Old Electrical Outlets
Do you have standard three-pronged or two-pronged outlets throughout your home? We strongly recommend that if none of these are the appropriate GFCI or AFCI outlets, that you have those replaced, as this is the new standard for home construction.
You'll recognize these types of outlets by the two buttons you see between the sockets, marked TEST and RESET. AFCI and GFCI outlets are designed to protect from electrical shocks and electrical fires. What they do is detect when there's an imbalance between the "neutral" and "hot" slots of the socket. If an imbalance is detected, then the outlet automatically trips a breaker and shuts down the flow of electricity. GFCI and AFCI outlets should be installed in the kitchen, bathrooms, and any room where people sleep.
Consider an Electrical Panel Upgrade
This is still a few months away, but are you going to be putting up holiday lights this year? Have you ever noticed circuit breakers tripping when doing so, or maybe flickering lights inside your home when you turn the outdoor lighting on? These are signs that your electrical panel is struggling with the electrical demand being placed on it. Today's homes have much bigger electrical demands on them than homes even just a decade ago. Your electrical panel might not be up to the job!
Your electrical panel is where all the electricity into your home divides into separate circuits. The circuit breakers on the panel will trip to protect your entire electrical system in case of a power overload. If you have a panel more than a decade old—or if you're using a fuse box instead of an electrical panel—then we strongly encourage you to consider an upgrade. An upgraded panel will help you add more to your home, on top of temporary holiday lights!
For professional and reliable electrical services in Creswell, OR, look no further than Comfort Flow Heating. Contact us today!