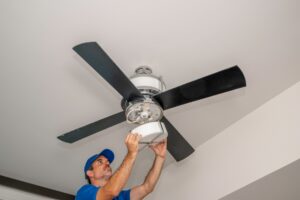 If you have a ceiling fan that is on the fritz and not working as it should, you may be tempted to ignore the problem. After all, if your home is comfortable, do you really need a ceiling fan? The short answer is yes.
When you schedule ceiling fan repair with our team, we can get your ceiling fan back to working like it's brand new so you can reap the many benefits. Still not sold on fixing your ceiling fan? Keep reading to learn more about how fixing your ceiling fan can make a positive difference in your home.
Safety Concerns
If your ceiling fan is not working, that means something is wrong with the components. Sometimes it's a simple malfunction. Other times, a ceiling fan problem can also signal that there is a safety concern. Since your ceiling fan runs on electricity, it has electrical connections. If your problems are due to wires that are worn down or faulty, your ceiling fan not working is the least of your problems. Electrical issues can pose fire hazards and can even indicate a larger electrical problem across your entire home.
Potential Energy Savings
If your ceiling fans are not working, then you cannot use them to aid in keeping your home cool during the summer and warm during the winter. Ceiling fans can play a huge role in airflow around your home. Just the movement of air created by a ceiling fan can make your home feel a little cooler than it really is. This can allow you to set your thermostat a few degrees higher and potentially save hundreds of dollars a year on your energy bills.
In the winter, heat rises. Your ceiling fan has a switch that allows it to turn in the opposite direction during the winter season, drawing heat down and into your home. Just like during the summer, this can help your home to feel more comfortable so you're not tempted to set your thermostat higher and higher in an attempt to keep your home warm. In fact, you may even be able to set your thermostat a little lower with the help of your ceiling fan.
Wear and Tear
And energy savings don't just mean saving money. When your air conditioner or heater uses less energy, it also cuts down on the overall system wear and tear. Your ceiling fan costs less to operate and also costs less to replace when it wears down. Using a ceiling fan to help maintain your home's comfort can increase your air conditioner or heater's lifespan so that it lasts longer than average. 
Home Comfort
And let's face it, even though energy savings are great, you simply want your home to be comfortable no matter the season. A ceiling fan can make a huge difference in your comfort during all of the seasons. On the hottest days of the year, a ceiling fan can increase airflow so that you almost have a little breeze. In the winter, you can feel warmer without having to bundle up in jackets and blankets.
Your comfort is our business! Comfort Flow Heating serves all of Oregon, so contact our team today to schedule your appointment.