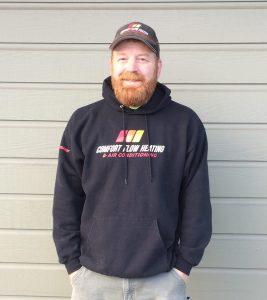 Each quarter, we like to shine a spotlight on one of the great employees at Comfort Flow Heating. It's people like these that make CFH a continuing success and the contractor that customers want to work with again and again. We've been in business for more than 50 years because of the work, skill, and commitment of the amazing people on our team.
Mike Mervine
Mike Mervine is our Journeyman Commercial Installer. He's been with Comfort Flow Heating for just over four years. What he likes the most about working at CFH is that he has the opportunity to come up with solutions to difficult problems. It's this type of creative problem-solving that makes for a great installer, and we're fortunate to have Mike working on our team!
Mike's hobbies include photography, playing guitar, hiking, fishing, and camping. He's been married to his wife Kendra for 18 years and they have two children: daughter Madelyn (15) and son Max (9).
We'd like to thank Mike for all he does for us!
Turn to Comfort Flow Heating for all your heating and cooling needs in Oregon.