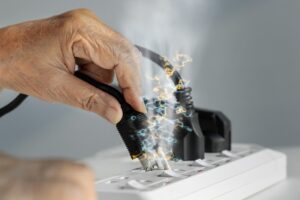 We've often found that when homeowners hear the term "surge protection" they think "storm protection." In other words, they think that the only time a powerful surge of voltage can occur in their electrical system is when there is a lightning storm going on and power lines are affected. And it's true: power surges can and do occur during storms. However, what's a lot more likely is that power surges occur when you use your heavy-duty electrical appliances!
This includes your air conditioner, heating system, dishwasher, and more. These appliances have the ability to send a high wave of voltage through your electrical system—and the damage they do isn't instantaneous, so you may not even notice it at first. It slowly degrades the wiring and electrical components, including the circuit boards, of other electrical devices in the home—which can include phone chargers, entertainment systems, speakers, kitchen appliances, and more.
At this point you might be wondering, "Okay so can I just use power strips throughout my home?" You could, but this might not be sufficient. Read on to learn more!