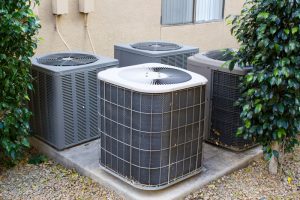 If you've already arranged for a complete tune-up and inspection for your home's air conditioner with our professionals, you should have a cooling system that's ready for the summer weather. But there's no way to stop all problems that might plague an air conditioner when it's working. The best way to deal with potential malfunctions in an air conditioner is to know the early warning signs. That way you'll be able to call for air conditioning repair in Salem, OR in time to have the issue corrected when it's still small and before it can spread to create other malfunctions.
What should you watch for? Here are a few early signs of caution that it's time to call our repair team:
Weird sounds you haven't heard before
If you've had your current AC for more than one season, you already have a good idea of the noise it makes as it does its job. Modern air conditioners are designed for the quietest operating sound possible, but of course, there'll still be some "white noise" (some people find this soothing). If there are interruptions to the white noise, such as a grinding sound, a hissing, a bit of a rattling—really anything that's out of the ordinary—have a repair expert take a look.
Some rooms aren't as cool as usual
Watch out for any hot spots in your house. You may enjoy the same relaxing cooling power in the living room, dining room, and the master bedroom—but is one of your kid's rooms feeling hotter than normal, and it isn't just because of extra sun exposure? Any indication that the AC isn't evenly distributing conditioned air can mean it's starting to lose cooling power for one of a variety of reasons.
The AC compressor is turning on and off frequently
The cooling cycle of an air conditioner is usually longer than 15 minutes. This is how long it takes for the compressor to start up, cool the house to the setting on the thermostat, and then cycle itself back down. If you hear the compressor turning on and off multiple times per hour, it means the system is short-cycling. This can point to many different problems, including a compressor in danger of burning out. Shut off the AC and call for help right away.
Water is dripping from the indoor unit
You'll periodically hear water dripping inside the indoor HVAC cabinet. This is normal: the condensation moisture along the evaporator coil is dripping down into a condensate pan. If water is dripping out of the AC, something is wrong, however. The drain on the condensate pan may have clogged up over the off-season, or the pan has come loose. Please don't try to fiddle with the pan, the condensate drain, or the condensate pump. Get help from the experts.
Airflow from the vents feels low
Check on the vents around your house when your AC first starts to run. If you find the air pressure feels weak, let one of our repair technicians see what's going on and have it fixed.
Comfort Flow Heating serves all of Oregon, and we offer 24/7 emergency service.