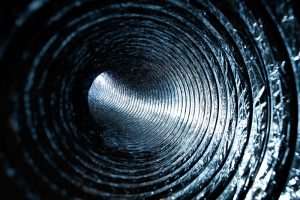 If you've looked around our website at the many residential services we offer our customers, you may have noticed that you can schedule duct cleaning in Eugene, OR, or elsewhere in our service area for your home's ventilation system. A common reaction people have to seeing this service is to wonder if it's useful at all.
We understand why homeowners may be skeptical. For one thing, ducts are out of sight—and that often means they're out of mind. People rarely give much thought to what's inside their ducts. There are also a number of non-professionals who offer duct cleaning at suspiciously low costs. "Suspiciously" is right: these aren't real duct cleaning, only a quick vacuum job that doesn't do much good.
Thorough duct cleaning from professionals using the finest equipment can provide a home with many benefits. Here are some of the ways regular duct cleaning (done every 3 to 5 years) with our pros is beneficial:
Energy savings: A large amount of dust and debris can build up inside the ducts of a home over only a few years. Even a thin layer of dust creates some amount of resistance to air flow from the blower fan. As the accumulation builds up the resistance becomes severe enough that it will cut down on the energy efficiency of the HVAC system, elevating heating and cooling bills around the year. Regular duct cleaning helps keep bills from rising past what they should be.
Healthier HVAC system: Excessive dust and debris caught inside the ventilation system can end up getting inside the HVAC cabinet, where it will damage motor parts and even electrical components. You can anticipate a longer service life from your HVAC system when the ducts are cleaned out on a regular basis.
Better indoor air quality: Think of the ducts as like a large repository of all the dust, lint, and dander circulating through your house. The average six-person home circulates 40 lbs. of dust through the HVAC system per year. Each time an HVAC blower fan comes on, a large amount of this dust in the ventilation system gets blown into the living spaces, lowering the air quality. Cleaning out the ducts helps improve air quality for your household—which is especially helpful for people with allergies and asthma.
Cleaner home: This is connected to the improved indoor air quality. Your home won't have layers of dust everywhere and on everything when the biggest source of dust in the house is cleaned out.
We must emphasize how important it is to only hire HVAC professionals with specialized equipment to do the job of residential duct cleaning. This isn't something a long-hosed vacuum can take care of! When you trust to the experts at Comfort Flow, you'll have a thorough job done and enjoy a few years of an HVAC system working at its best.
If you are unsure if your home is due for duct cleaning, we're glad to help. Contact us today to set up an appointment with our specialists. They'll see that you have ducts in the best condition possible.
Comfort Flow Heating serves all of Oregon with heating, cooling, and ventilation services.