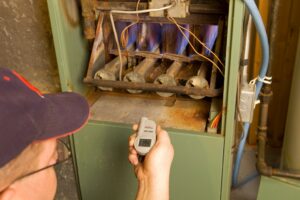 Would you skip over an oil change on your car? Absolutely not! So why are you skipping out on the maintenance for your heater? Winter is just around the corner, and soon your heater will be working around the clock to keep your family warm and comfortable no matter what the temperatures are outside. 
Regular tune-ups and maintenance services are the best way to keep your heater running at its best year after year. And now is the time for this important heating service. You don't want to put off maintenance until your heater stops working because something is wrong. If you need furnace repair in Springfield, OR, our team is here to help. We can ensure that your heater is in the best condition possible to take on the coldest temperatures this year. 
Why is Heating Maintenance Important?
Furnace repairs are never convenient. You don't want to come home one day from work to find out that your heater is broken and you can't get a furnace repair appointment for a couple of days. While you can't plan for furnace breakdowns, you can prepare by investing in furnace maintenance. 
Fewer Repair Costs
When you invest in maintenance, you have fewer repair needs later on. A service appointment is an opportunity for our team to address repair needs before they become a problem. We tighten bolts and screws, lubricate parts, and make sure that everything is working as it should. After all, your furnace doesn't break down overnight, even though it can seem that way. Small repair needs can go unnoticed until they become big problems, but tune-ups catch these small problems early. 
Energy Efficiency
Experts estimate that your heater loses around 5% of its efficiency each year. But regular heater maintenance can help you keep that efficiency over the life of your unit. When your heater uses less energy, your monthly energy bills are lower. If you haven't had heater maintenance for a while, or ever, then now is a great time. You can increase your heater's energy efficiency and heat your home for less this winter.
Longer Lifespan
Maintenance is also a great way to make sure that your heater lives a long life. The average heater lasts between 10 and 15 years. Heater maintenance is the difference in your heater lasting 15 years or even longer. Without regular tune-ups, your heater is more likely to stop working sooner because problems continue to add up over time without being addressed. 
Safety
Whether your heater is electric or gas-powered, it poses safety issues. Most heaters never have any problems, but there's always a small chance that something can go wrong. Heating maintenance appointments are an opportunity to address wiring problems or potential leaks in gas lines. These components are often out of sight, so you don't notice when something is beginning to wear down or go wrong. But our expert technicians know just what to look for. 
Improved Comfort
There's nothing like being able to enjoy your home with the peace of mind that your heater is working great. You know that it's safe, it's efficient, and it's heating your home to meet your expectations. Tune-ups offer this peace of mind. 
Your comfort is our business! Comfort Flow Heating serves all of Oregon, so contact our team today to schedule your appointment.