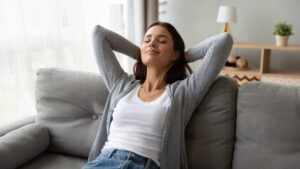 Homeowners throughout the country have become more concerned than ever about the health of their indoor environments because of the ongoing pandemic. But while there is no product out there that can 100% guarantee that COVID-19 germs or any other viruses won't be transmitted, the good news is there are steps you can take to improve the health of your personal indoor environment—your home.
One way you can do this is by investing in the right indoor air quality products. Most Americans spend about 70% of their time indoors—and these days that estimate is creeping up to 90%. You deserve the peace of mind knowing you're living as healthfully as possible when you spend time indoors. One indoor air quality product—that there are actually a few variations of—which we want to talk about here is the whole-house air purifier.
The Power of a Whole-House Air Purifier
Even before we all knew what COVID was, homeowners often sought out ways to breathe the best quality air possible within their homes. This can be reason enough for you to look into a whole-house air purifier! But you should also consider the addition of this product if you notice:
Mold or mildew development in your home.
Dirty ductwork and vents.
Smelly or stale and stuffy air.
Dust and other particles visibly floating in the air.
Allergy or asthma symptom flare-ups among household members.
The best way to find out if a whole-house air purification system will benefit your specific household is to contact our pros for guidance!
In the meantime, while you could purchase small, portable air purifiers, we don't recommend it. Sure, they will have some effect on the quality of your indoor air. But not enough to truly make a difference to the health of your whole home. A whole-house air purifier is:
Cost-Effective
Small, portable air purifying systems can handle a room or two at a time. Rather than investing in multiple systems to put in various spots throughout the house, a whole-home air purifier can be installed directly into your HVAC system ductwork, where it can address the entire house.
This makes a whole-house system much more cost-effective than purchasing several portable systems. Additionally, it saves space in your home!
The cleaner air you'll achieve with a whole-house air purifier means you won't have to change your HVAC air filter as much. While those filters aren't in place to protect your indoor air quality, if they get too clogged up they can negatively affect your indoor air quality. You should be changing these air filters every 1 to 3 months during periods of HVAC system use.
Convenient
A whole-house air purifier is also very convenient! As we mentioned, a whole-home system can be integrated straight into your HVAC system's air ducts. So you don't need to worry about space being taken up by multiple small units nor do you need to worry about the noise associated with multiple small units.
Contact Comfort Flow Heating today for professional installation of an air purifier in Creswell, OR.