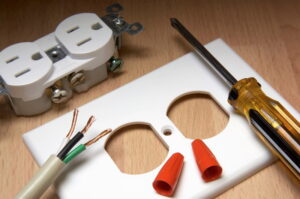 Nobody wants to face an electrical problem in their home. After all, they can lead to blackouts and even worse hazards such as electrical fires. But understanding how electrical problems happen and keeping up with services like electrical inspections (plus only trusting professionals for your electrical installs) is the best way to avoid these issues.
Many times, homeowners will see a problem and think they can just fix it on their own. With the plethora of "do-it-yourself" videos out there online, there's no doubt that you will find a video or article telling you how to fix the exact electrical problem you have. The issue with this is twofold:
If you aren't aware of building codes, you could find yourself liable for changes you make when you go to sell your home.
It can be dangerous. Making a mistake with an electrical repair can lead to electrocution or even electrical fires.
Read on as we uncover 5 of the most common electrical issues that homeowners should absolutely call on a professional to repair.
You Have an Outlet That Is Loose
Have you noticed that one of the outlets in your home is loose, and are you avoiding using it? Or perhaps you're using it very cautiously? Contact our team! While replacing the cover or faceplate of an outlet is absolutely something that the average homeowner can handle, if the outlet itself is loose in the wall, this isn't something you want to mess around with.
You Experience Tripped Circuit Breakers or Blown Fuses
First off, if you still deal with blown fuses, it's time for an electrical panel upgrade! Fuse boxes are very outdated and cannot handle the high electrical demands of modern homes and their appliances. Whether it's fuses or circuit breakers though, if you're constantly having them go out on you, it means there is a voltage overload. A professional needs to check this out to see what's causing the issue.
You Have Flickering Lights
No, you're house probably isn't haunted. But flickering or dimming lights can certainly be a nuisance, right? Don't let this problem escalate—the last thing you need is overheating, sparking, or an electrical fire!
Are Lightbulbs Burning Out Too Fast?
Have you noticed that your 10-year LED lightbulbs burnt out in half that time? This could be a sign of an electrical wiring problem, and not a problem with the lightbulbs themselves. Give us a call for an inspection!
Hot Outlets or Switches
We have a bit of a caveat on this one. If you have a dimmer switch, it may be warm to the touch. This is natural with these types of switches. But for any other type of switch, including the dimmer switch, if you notice it's hot to the touch when it never has been before, it's time to give our number a call. The wiring may be damaged or your electrical panel may not be able to handle that much electricity.
Comfort Flow Heating is your trusted resource for an expert electrician in Eugene, OR. Contact us today!