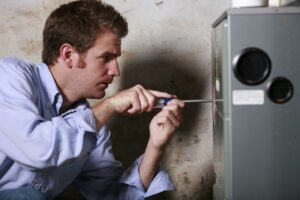 The official end of winter is just a few short days away. While it never gets as oppressively warm in our area as it does in other areas of the country, sooner or later we're going to be shutting down our heating systems in favor of warmer temps and eventual air conditioner use.
On that note, it's a good idea to schedule your air conditioner maintenance now, before you need this system the most. But that's not what we're going to talk about today.
One of the most important parts of having a fully functional and efficiently operating heating system is keeping on top of heating maintenance and repairs. If you scheduled a tune-up this past fall and took care of any pending repair needs at that time, you're probably in good shape. Either way, it's a good idea to be aware of any indicators of disrepair your heater may currently have, so you can rely on it throughout the remainder of our chillier temperatures. Read on as we uncover some of these indicators.
Loud Noises
If you are using a furnace as your home heating system, you'll hear some noise coming from it during its operation. This can include the air coming through the vents, and even the ductwork slightly rattling as the air temperature inside it changes and causes the air ducts to expand and contract.
But what you shouldn't hear coming from your heater are any noises that are out of the ordinary. This can include banging, excessive clicking as the system cycles down—which can be the sign of a potentially hazardous damaged heat exchanger within a gas furnace—screeching, hissing, or loud clanging.
Odors
The only time you should detect any odors coming from your furnace or gas or electric-powered heating system is at the very beginning of the season, as dust burns off of the coils and the vents. This smell should dissipate within a few days at most, and should not return.
If you detect an acrid or burning odor this time of the year, it's definitely the sign of an urgent problem. To be on the safe side, shut your heating system down and give us a call right away.
Lack of Warm Air
This can be understandably frustrating—your heater has one job, right? So, if you notice lukewarm air coming through your vents, or if it just doesn't seem as warm as it used to be, it's worth giving us a call. This can be a harmful problem in the case of a gas-powered heater. But even in an electric heater, a lack of warm air or uneven heating can be a sign of ductwork or thermostat trouble—both of which will also affect your air conditioner efficiency. So it's best to take care of this repair need now!
Higher-Than-Average Utility Bills
Have you discovered that your energy bills are much higher than they were this same time last year, or more than what your neighbors are paying? If so, the cause can certainly be inefficient heating system operation. The best thing you can do for your heater and your budget is to call us to take a look at what may be causing this.
Contact Comfort Flow Heating today for reliable heater repair in Coos Bay, OR!