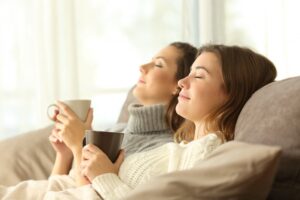 If there is any home comfort problem that is collective among homeowners these days, it's poor indoor air quality. Throughout the country, in any given household, the indoor air quality is typically far worse than the quality of the air outdoors. At least, this is the case without the right indoor air quality solutions in place.
One such solution is a whole-house air purifier. Considering that for now, Americans are still spending the majority of their time indoors, it makes sense that you want to ensure the air that you're breathing is as healthy as possible. Read on as we uncover the power of whole-home air purifiers, and 2 big ways you'll benefit from its installation (spoiler alert: they're convenient and cost-effective).
Why You Should Choose Whole-House Air Purification
During the pandemic, homeowners have become more and more aware of the need to bring quality air into their homes. This is even more important now, and this may be reason enough to look into installing a whole-home air purifier.
But even without all that, these signs indicate that you'll benefit from such a system:
Mold and Mildew Growth
Dirty Ducts
Stuffy, Stale Air
Visible Particles in the Air, like Dust and Other Allergens
Allergy Symptom Flare-Ups Among Household Members
The best way to find out how whole-house air purification will complement your home is to contact our team for professional guidance.
In the meantime, you can buy small, portable air purifiers to use in your home. But just because you can, doesn't mean you should. Portable systems have minimal impact on your indoor air quality. For truly thorough results, it will benefit you to go with a whole-house system, and here are two big reasons to do so:
ONE: They're Cost Efficient
As we alluded to above, portable air purifiers are good for one or two rooms each. Rather than purchasing a number of small systems to place in various spots in your home, where they have to be strategically placed so that airflow isn't affected, a whole-house air purifier can be installed directly into your air ducts in order to address the entire living space.
This makes whole-house air purification must more cost-efficient than going with several portable systems, and it saves space! Cleaner air also means you won't have to change your HVAC air filters as much. These air filters aren't there to protect your indoor air quality anyway, however they can become quickly clogged if you're not managing your indoor air quality.
TWO: They're Convenient
As we said, a whole-home air purifier can be installed directly into your HVAC system's ductwork. This means there's no concern about how to find space for such a system, nor do you have to worry about the noise associated with multiple air purifiers placed around your home.
In addition, you'll have uniform indoor air quality throughout your living space 24/7. While a whole-home air purifier can't mitigate serious mold infestations, the use of one may help this problem from happening to begin with. (On that note, ask us about the benefits of duct cleaning too!)
Install an air purifier in Coos Bay, OR, contact the Comfort Flow Heating team today!