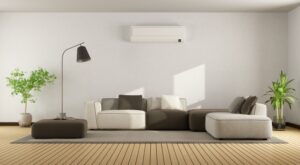 What if we told you that when you're looking to heat or cool your home, there's an effective and efficient way to do both from one system? There is: the ductless HVAC system. Also referred to as a ductless mini-split or ductless heat pump, this type of central heating and cooling is becoming increasingly popular both in our area and throughout the country.
Ductless systems are effective at keeping homes warm in the winter as well as cool in the summer. If you're looking to replace your air conditioner this spring and have also been considering a heating system replacement, then this may be just what you're looking for.
Determining the Right HVAC Solutions for Your Home
Choosing the right air conditioner and/or heating system for your living space can be an overwhelming process, and we are here to help! There are a variety of options to choose from, so our best advice is that you discuss these options with a trained and experienced professional. Not all homes are the perfect candidate for a ductless system, but your home may be.
Our trained and experienced professionals will help you decide if a ductless system is a worthwhile investment for your household and overall comfort. Read on as we dive into what makes a ductless system different, and a great option for many homeowners.
When to Consider Going Ductless
As the name suggests, a ductless cooling and heating system does not rely on a network of ducts. Instead, it uses one outdoor condenser unit that is connected via refrigerant lines to air handlers that are installed throughout your living space, usually mounted high up on the walls of the rooms that need it.
Ductless systems are heat pump systems and operate very similarly to central air conditioners. In the summertime, they use a refrigerant process to pull heat out of the home, condensing and compressing it in order to bring chilled air back into the house. You should consider going ductless if you want:
Versatile Heating and Cooling
Since ductless systems can both heat and cool the home, you'll have year-round comfort. With the flip of a switch, the system can go from cooling mode to heating mode, and vice-versa.
To Save Space
Having ductwork installed, or having ductwork repairs if you already have air ducts in place, is an extensive job. Since ductless systems don't need this bulky addition, you'll save considerable space in your home. The ductless systems use a small outdoor unit with up to four indoor air handlers that, as we mentioned above, can be wall-mounted, up and out of your way.
In addition to saving space, the absence of ductwork also protects your indoor air quality.
Cost-Effective Heating and Cooling
Ductless systems don't need to use as much energy as other systems do to cool and heat your home. In fact, a ductless system is a great option for efficient heating, since instead of generating heat, it transfers heat.
To learn more about ductless cooling and heating in Creswell, OR, look no further than Comfort Flow Heating. Contact us today!