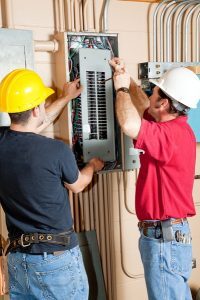 Also referred to as the circuit breaker panel, the electrical panel in your home is tasked with keeping your entire household's electrical system running smoothly … and more importantly, safely.
It's likely you don't think a lot about your panel, unless maybe you're resetting breakers on a regular basis (we'll cover this among other signs below).
If you've lived in your home for a couple of decades or longer and have never had an electrical inspection done, then you definitely want to keep reading. Aging service panels require special care and attention to ensure they're not operating in an unsafe way that can threaten your home and family.
If you do realize you have an emergency electrical need, we're the team to call. But we would also like to help you avoid power emergencies. We've gone ahead and shared four signs that you need an electrical panel upgrade.
#1: Constantly Tripping Circuit Breakers
Once an electrical panel has reached a certain age, it begins to suffer damage from power surges through your home's wiring. This is because it can't handle the amount of electricity going through it. A big reason this occurs is because homes today have increasing electrical demands in the form of entertainment systems, chargeable devices, and more.
Homeowners often mistakenly believe only storms cause power surges. The reality is, they're often caused by large, powerful appliances, like an HVAC unit, cycling on and overloading the system.
Let's say you find yourself resetting breakers a few times a week, when it used to be that you rarely had to reset them more than a few times a year. Consider this a warning that your panel needs an upgrade.
#2: Evidence of Electrical Fires
Circuits and wiring that wears down can create small electrical fires inside the panel. In most cases, they quickly burn themselves out. However, you can often detect the signs they've occurred.
If you smell an acrid stench from the panel or see charring and discolored markings around the circuit breakers, then the panel has likely experienced an electrical fire. These panels are designed to shut off circuits if this occurs. But you should never knowingly allow it to happen.
#3: You Still Have a Fuse Box
If you're wondering why we haven't mentioned blown fuses yet, it's because you shouldn't be using a fuse box in your home! These were used about forty to fifty years ago, before electrical panels, and they cannot possibly handle the increased electrical demand of modern homes.
If your home does still have a fuse box, then we have to tell you—it's outdated and could start causing problems for your electrical system and property.
#4: A Breaker Won't Stay Reset
We mentioned above that one of the signs that you need an electrical panel upgrade is constantly tripping breakers. What if it's just one breaker? Well first, check to see what is connected. There's a possibility you can switch things around, plug appliances into different outlets, and redistribute some of the demand placed on the electrical panel. If this doesn't work, give us a call.
To get in touch with a quality electrician in Eugene, OR, look no further than Comfort Flow Heating! Contact us today.