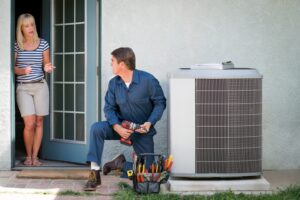 Do you have a modern, high-efficiency air conditioner?
Next question: do you have a modern, high-efficiency thermostat to match it? Or, are you still using an old manual thermostat with a slider, or even a basic digital thermostat? We can help you with an upgrade that will instantly boost your HVAC efficiency and more–a WiFi or smart thermostat!
"Do I Need to Upgrade?"
Well, think of it like this–your thermostat serves as the brain of your air conditioner and heating system. Don't you want it to be as efficient and accurate as possible? Hopefully, this is a goal of yours, and that you're ready to learn about the many benefits you can get from an upgraded thermostat.
The Perks of Upgrading to a Wi-Fi or Smart Thermostat
You've probably heard of smart homes and smart technology, but it's possible you didn't know this could include your thermostat! We now live in an era where most homeowners are looking for a way to upgrade their homes, through smart speakers, smart security systems, etc. Read on as we uncover some of the benefits you'll enjoy when you upgrade.
Accurate Temperature Adjustment and Setting
Sure, a digital thermostat can read the temperature in your home. But just because it has that ability doesn't mean it does it well. A smart or Wi-Fi thermostat helps you enjoy incredible accuracy when it comes to your system's ability to sense the correct temperature and accurately adjust the temperature too.
Improved System Efficiency
This is the biggest benefit of going with a Wi-Fi or smart thermostat. It will help your AC system operate more effectively and more efficiently. Better efficiency helps you enjoy reliable comfort and lower your energy bills—which is arguably the best thing for you, right?
Remote and Wireless Thermostat Access
Smart and Wi-Fi thermostats can be accessed on your mobile device or smartphone. This means you will be able to adjust the temperature in your home no matter where you are. You can also adjust your home comfort while on the way home from work or even while you're on vacation.
Programmable Capabilities
Smart and Wi-Fi thermostats allow users the ability to create programs to optimize their comfort. Based on your usage needs, you can program the thermostat in a way that helps you use less energy when nobody is home but boost the comfort indoors by the time you come home from a long day of work.
Contact the Pros for Your Wi-Fi Thermostat Installation
When you're interested in a thermostat upgrade, give our team a call! Our technicians are here to help assess your comfort needs, pairing you with the best thermostat possible, and taking a look at how else you can improve your home comfort—whether it be through indoor air quality products and services or even duct services to help further improve the performance of your HVAC system.
When it comes to heating your home this fall and winter, consider upgrading your system and contacting our team for the job!
For professional Wi-Fi thermostat services, contact Comfort Flow Heating!