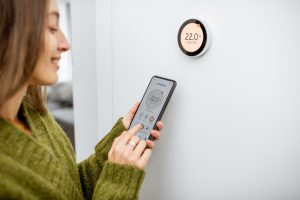 In our previous blog post, we talked about what exactly it means to have a "smart home" and what home automation looks like. You know the systems that are available to you, but how do they really benefit you? Read on to find out!
You Can Manage Everything in Your Home from One Spot
First thing's first: let's talk about how convenient home automation is! You have the ability to keep all of your home's technology connected to one interface, meaning you can control everything from one spot. This includes your lighting, thermostat, security camera, and locks … even home theater systems and window treatments (blinds) can be connected through home automation.
You Have Flexibility to Add More Devices
No matter how state-of-the-art your current appliances and electronic devices are, there will always be something "bigger and better" right around the corner. With home automation becoming more popular, so is the option to integrate these appliances into your already existing smart home. Smart home automation is a seamless process and will let you continue to grow your collection of devices.
You Can Maximize Home Security
When you incorporate security and surveillance features into your home automation network, you can increase your security. From motion detectors, motion-detecting lighting, and surveillance cameras to automated door locks, you'll never need to feel anything less than safe and secure in your home. Also, say you leave the home and can't remember if you locked the door or closed the garage door—with smart home automation you can do that from your phone or any mobile device with Wi-Fi access!
You Can Increase Energy Efficiency and Save Money
Home automation allows you to control your home remotely. This means putting an end to wasteful inconveniences like accidentally leaving lights on you didn't mean to or leaving the air conditioner running when you only need it to be on during the peak heat of the day.
You'd be surprised how much energy can go to waste, and subsequently how much money can go to waste, due to unnecessary use of appliances. Especially your HVAC systems! After all, HVAC use makes up half of all energy use in the average home. Imagine being able to control remotely your thermostat and when your HVAC systems cycle on and off.
Plus, investing in a smart thermostat helps too! These devices "learn" from your heating and cooling preferences and then adjust on their own to bring you the most efficient service.
You Can Learn How Your Home Operates
Are you ever curious about how much TV you watch, your energy consumption over time, or the amount of energy you may waste on unnecessary lighting or HVAC use when you aren't home? Home automation systems allow you to get insights into all of this from the comfort of your smartphone or computer.
Interested in learning all home automation has to offer? Please don't hesitate to reach out to our team. We're happy to go over all your options with you.
Contact Comfort Flow Heating to learn more about our Junction City, OR home automation services!