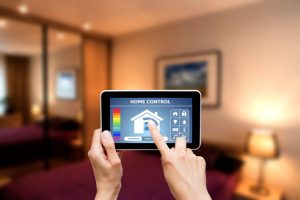 More and more often, homeowners are hearing the term "smart home." But what does this actually mean? You may have seen a movie or two about houses that seem to have a mind of their own. While these tropes are a bit farfetched, they're not too far off from what's possible with technology today.
Smart homes are homes with automated technology, allowing you to set up your household the way you want it, with things like automated thermostats, lighting, security systems, and even home theaters. Read on to learn more!
Why You Should Choose Home Automation
There are a number of benefits to upgrading your home and investing in home automation. They include:
More Convenience: Smart homes offer convenience! Say you're coming home on a cold day, you can have your heating system on and at the right temperature for your needs before you even walk in the front door. Someone in your family forgets their keys? You can unlock the door for them remotely.
Monetary Savings: Home automation allows for better energy efficiency. Smart devices, like smart thermostats, learn from your heating and cooling preferences and lead them to run your HVAC systems more efficiently, for example. As a result, you'll save money you'd otherwise be spending on wasted energy.
Improved Security: You and your family can have peace of mind with the ability to monitor security cameras even when you're not home. You can even see who's unlocking any doors leading into your home with the help of video cameras with motion sensors as well as individualized codes for the number pads used to unlock your home.
More about Smart Thermostats
We briefly mentioned smart thermostats above. Homeowners are increasingly becoming interested in these small but mighty HVAC components. Your thermostat is essentially the brain of your entire heating or cooling system. Therefore, you want it to be as precise as possible. Old manual slider thermostats certainly won't do the trick, and even the most basic digital thermostat can be thrown off.
It's time to switch to a smart thermostat! It allows you to get the most precise temperature and use out of your HVAC system and saves you money. There are various smart thermostat brands, and most of them give you user-friendly monthly breakdowns and recommend methods to cut down on your energy usage when relevant. If you're considering upgrading your home, be sure to reach out to our team.
Are Your Devices Compatible?
One of the biggest mistakes homeowners make when trying to create a smart home is purchasing home automation equipment that's not compatible with each other. This is why it's so important that you hire an experienced professional to help with your home automation.
We'll ensure you're matched with the best devices and equipment for your home's specific needs. Otherwise, you may have a very confusing and frustrating process on your hands.
If you want to learn more about smart home installation in Junction City, OR, make sure you contact our team at Comfort Flow Heating.