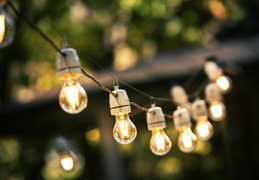 As much as we might not like to think about it, the holiday season is almost upon us. If you are like many homeowners in the Springfield area and beyond, you may be starting to think about decorating your home, inside and out. Most of the time, this includes putting up holiday lights around the home.
One of the most frequent calls our electricians receive around this time of the year is in regard to certain outlets not working throughout their home. This may include bathroom outlets, garage outlets, and outdoor outlets. The thing is, your holiday lights might be what's to blame.
What occurs is that the holiday lights trip one of your GFCI outlets, or even the circuit breaker itself.
"Oh! Wait, What's a GFCI Outlet?"
GFCI stands for ground fault circuit interrupter, and it is the type of outlet that's installed in areas that water can reach. So this includes your bathrooms, outdoor areas, laundry room, and even your garage. GFCI outlets have a very important job—they protect you from serious injury, through electrocution, and automatically shut off if moisture is detected or your electrical system is overloaded.
What Causes an Electrical System Overload?
When more amperage passes through an electrical circuit or wire than it is designed to manage, then overloading occurs. Basically, when you try to draw in power for too many appliances—or lights—from a single outlet, an overload can happen.
Even if you're spreading out appliances and lighting among different outlets, you still need to consider the overall capacity of your home's electrical system. Your electrical wiring and circuit panel both need to be able to manage the total load of all electrical appliances, equipment, and lighting that rely on it.
How to Tell If Your Electrical System Is Overloaded
There are some basic warning signs you can keep an eye out for that signal your electrical system is overloaded and at risk. These include:
Random flickering or dimming of household lighting.
The sound of buzzing, crackling, or sizzling with no clear sources.
Spark flying when an outlet is used.
Discolored wall plates or electrical cords.
Frequently tripped circuit breakers.
Multiple electrical appliances simultaneously malfunctioning.
If you notice any of these indicators, or if you suspect something might be up with your electrical system, the best thing you can do is to cease use of the impacted outlets, appliances, or wall switches and call for a professional electrical inspection. Don't just brush it off and blame it on your holiday lights only to ignore it this season.
"That's right, my holiday lights! Should I just not put them up this year?"
That's definitely not what we are getting at! You should be able to enjoy your holiday decorations just as much as your neighbors enjoy theirs. It's absolutely possible to avoid electrical overloads without sacrificing your enjoyment of the season. We say go ahead and plan on putting your lights up, but before you start, give our professional electricians a call.
We will do a thorough inspection of your system—our pros know what to look for and can spot hidden hazards like faulty or aging wiring. We'll make recommendations from there like upgrading your wiring, or even your electrical panel if needed.
When you're looking for trustworthy electricians in Springfield, OR, contact Comfort Flow Heating.