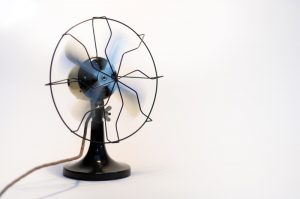 We're not exactly known for our warm weather here in Eugene, but if you've lived here for even one summer, you know just how hot it can get. When you think about adding extra power to your air conditioning, your mind probably goes straight to the thought of upgrading your current AC system to a newer model or replacing the system altogether.
We doubt that you're spending a lot of time in your attic and we really doubt that you're bringing a lawn chair up there to lounge on a hot summer afternoon. Your attic gets hot during the summer because of the sun beating down directly on your roof. Attacking the heat at the source can cool your entire home down. Contact our team for your attic fan services in Eugene, OR.
What Does an Attic Fan Do?
Attic fans work to prevent this excess heat from entering the living spaces in your home below. They do this by drawing the cooler air from outside and pushing the hot air in your attic outside. This keeps the rest of your home cooler and reduces the amount of the energy used to run your air conditioning system in the process. Attic fans help your home in a lot of ways. They boast the various benefits that we'll get into below…
How an Attic Fan Helps
An attic fan can really help your home. Installing an attic fan in your home can do the following for you:
It Cools It Down
The sun beating down on the roof of your home can raise the temperature of your home about 10°F or more. This might not sound like a significant jump in temperature (especially because this temperature change is happening in your attic), but it is.
Your home's air conditioner has to battle against all sorts of heat like sunlight coming in through the windows, steam coming off of your appliances, and even people and devices giving off body heat. The heat that your attic gives off is unmatched. Installing an attic fan can help your air conditioner cool off your home when it really matters. An attic fan can help you reduce your energy usage and it can lower your cooling bills this summer. Reduce your dependence on your air conditioner with this helpful system.
It Keeps Your Home Cool and Dry
Attic fans aren't only useful in the summer, they're also incredibly useful in the winter. We live in a super wet and rainy climate in Eugene, OR. You've probably experienced the ails of excess moisture at some level in your home. If you struggle with humidity from outdoors or even manmade humidity factors in your bathroom.
Your attic is a hotspot for mold and mildew growth. If your humidity collects in the attic throughout your home the mold and mildew growth. Having an attic fan in your home can help this space stay cool and dry throughout the year and help you avoid the health problems associated with mold and mildew.
Contact Comfort Flow Heating today to schedule attic fan services. Schedule an appointment today.