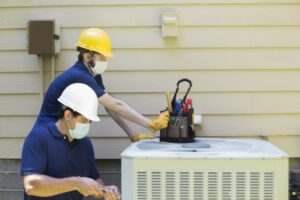 AC repair in Coos Bay is one of those services that require extensive knowledge and effort. This often prevents most people from completing the repairs on their own, as it should. For those who live in overly hot areas or who have a large number of residents within their homes, this can be highly frustrating. This is especially the case when you are on a budget or otherwise struggle to find the money for unexpected repairs. 
However, you can ultimately save money by not cutting corners, and having a professional manage your repair needs. Luckily, by taking the time to learn more about AC repairs, you will learn the signs that your air conditioner needs to be serviced, and call our pros right away, which can prevent costlier damages from occurring. With that in mind, the following is a short guide to AC repair. 
How Long Will My AC Repair Last? 
AC units are complex machines, and knowing how long an AC repair lasts can be tricky. Generally speaking, it depends on what your repair needs are and the general condition of the AC unit prior to repairs. For instance, when your AC unit is already in poor condition, your repairs may only last for a short period of time. On the other hand, if your AC unit is in relatively good condition, they are likely to last a longer period of time. 
How Much Does It Cost for AC Repair? 
As mentioned, the amount you have to pay for repairs typically depends on the level of difficulty of the job. For instance, difficult repairs (i.e., refrigerant leak or a damaged compressor) are typically more costly because of the amount of time spent. However, these repairs also tend to last longer, as long as the unit itself is in good condition. On the other hand, easier repairs (i.e., capacitor replacement or repairing a bent fan blade) may not last as long. This has nothing to do with the quality of the job. Rather, smaller, less important parts are often less durable and, thus, must be replaced more often. 
Can AC Repairs Be Prevented? 
The good news is that most, if not all, repairs are totally preventable as long as you are investing in regular tune-ups. Just as with vehicles and other complex pieces of machinery, investing in regular tune-ups can prevent serious issues from occurring. For most people, this means having your AC unit serviced around 1-2 times per year. This allows your system to be regularly assessed by professionals who can then diagnose any problems and fix minor issues before they turn into major ones. 
Are you Prepared for AC Repairs?
Overall, one of the best ways to protect your AC unit from costly repairs is by investing in routine maintenance and tune-ups. This means your AC unit should be serviced by a professional at least 1-2 times per year. Doing so will make it possible for a professional to uncover hidden issues and fix them before they become major problems. 
Either way, for reliable and professional air conditioning services, look no further than Comfort Flow Heating. Contact us today!