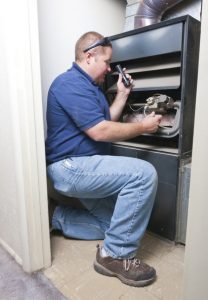 The rainy, colder weather is here in Oregon, and we can expect it to stay through to spring. Of course, this is how it always is, and you expect the heating system in your house to work during the season keeping you and your family cozy.
But you can't take your heater for granted! No matter if it's a furnace, a heat pump, an in-floor radiant system, or a ductless mini split, it must have professional attention on a regular basis to ensure that it's inspected and tuned-up. How regularly? Your heater must have maintenance ­every year.
The best time to have it scheduled is in the early fall so you beat out the cold weather. But it's definitely not too late in the season to arrange for it! We offer Energy Savings Agreements which provide you with the routine maintenance your heater need. (The agreements also cover maintenance in the spring for your AC.)
Why Heating Maintenance Is Important
The easiest comparison to make to explain why routine annual maintenance for a heater is vital is car maintenance. The average amount of time the heating and air conditioning system for a house in Oregon runs is approximately the same as putting 174,000 miles on your car. Would you want to drive your car 174,000 miles without having a professional mechanic tune it up, change the oil, check the batteries, tighten connections, look at the tire pressure, etc.? Of course you wouldn't! You shouldn't let your HVAC system go without the same scrutiny and attention.
We can break down the benefits of regular heating maintenance into a few broad groups:
Safety
Safety always comes first! If your home uses a gas-powered heater—and gas furnaces are the most common type of heating system across the country—it needs annual check-ups to see that it doesn't have any repair needs that could turn into safety hazards.
Reliable performance
You do not want your heater to suddenly stop working on one of the coldest days of the year, stranding your family with a chilly house until repair help can arrive. (We offer 24-hour emergency service, but of course we can't be there instantly!) Professionally maintaining the heater is the best defense against a sudden system shutdown. The peace of mind you'll receive on its own is worth it.
Reduction in repair frequency
Although there's no technique that will prevent all repair issues with a heating system, annual maintenance goes a long way toward that goal. In fact, around 85% of the repairs a heater (or air conditioner) might require over its lifetime are preventable with maintenance.
System longevity
A heater will last many years longer if it is regularly maintained. You can avoid a premature and expensive system replacement thanks to maintenance.
Protect energy efficiency
Each year a heater goes without its regular maintenance appointment, it will lose some of its energy efficiency as it wears down. This means the heater will cost more to run than it should.
Let us take care of your home heating in Salem, OR or elsewhere in the state. We have been in business since 1961 seeing to the HVAC needs of homes and businesses throughout Oregon. We can handle everything from small repair work on your home's heater to large new heating system installations.
Comfort Flow Heating—Offering service to all of Oregon for more than 50 years!