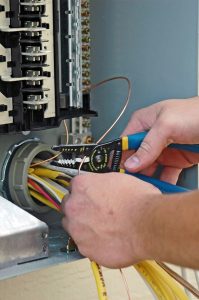 Also known as the circuit breaker panel, the electrical panel of your home is what controls your entire electrical system—incoming electricity is routed to the different circuits through this hub, and the breakers are designed to shut off circuits if there is a voltage overload.
If you have an aging circuit breaker panel, however, or worse yet a fuse box, chances are that you are very much overdue for an electrical panel. Most circuit breaker panels last anywhere form 25-40 years before they need replacing. This is largely depending on how much the electrical demand of the home has increased, and if you've experienced any problems with the panel.
Read on to learn more about how to tell if you need an electrical panel upgrade!
Do You Still Have a Fuse Box?
It's rare to not at least have an update from a fuse box to an electrical panel, but if your home was built prior to 1960, it is possible. Rather than tripping a breaker when there is excess electrical voltage, one of the fuses burns out to stop the flow of electricity.
The thing is, this isn't particularly safe, especially with the advanced technology and electronics we're plugging into our homes these days. If your home still has a fuse box, it's definitely time for an electrical panel upgrade.
Consider the Age of Your Home
Even if you do have an electrical panel, you should consider how long it has been in place. Is your home over 30 years old? While any worn down electrical appliance can become hazardous, it's not necessarily safety we're worried about here. Rather, it's your home's electrical capacity.
Electrical panels more than a few decades old can handle around 60-100 amps, while newer panels can manage up to 200. This is much more suited to the rise in electrical demand in most households due to charging stations, computers, and an increased number of electronics.
How do you know the level of amps your panel can manage? Take a look inside the door—there is typically a sticker there stating how many amps are available.
How Often Are Your Breakers Tripping?
Chances are, you don't want to make regular visits to your electrical panel each week just to reset tripped breakers! If this is happening with just a single circuit, it's probably an issue with whatever appliance is hooked up to it, or wiring problems. You'll need electrical repairs in this case, but if different circuits are tripping, it's possible that the panel itself is worn down, or no longer able to meet the electrical demands of your home.
Beware Flickering Lights
This typically indicates small power surges in your home. The problem with power surges is that slowly, over time, they damage the appliances and electronics plugged into your electrical system. Power surges occur from larger appliances, such as your HVAC system or water heater, cycling on and sending a high amount of voltage to the panel.
You can defend your home and appliances against this with the professional installation of a whole-home surge protection system. If you've already been experiencing power surges though, we really recommend you give our team a call to inquire about an electrical panel upgrade, so that your system can handle your appliances without suffering from as many power surges.
When you need a professional electrician in Eugene, OR, look no further than Comfort Flow Heating. Contact us today!