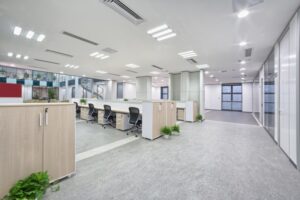 With the unseasonably warm weather we have had in our area recently, it may seem odd to even think about heating maintenance right now. But as rare as recent weather was, we usually get cooler temperatures the majority of the year. So, as fall approaches, it's important to assess our heaters and see what kind of shape they're in. This is especially true if you own a business or manage a commercial property. If you think a residential heater has a lot of maintenance needs, then imagine what your commercial heater might need!
And yes, your commercial heater does need routine maintenance. This means once a year for your furnace or boiler. If you have a heat pump system or ductless heat pump, then the system should be tuned-up twice a year. Read on as we uncover just why this is so important.
Your Heating Equipment Will Last Longer
Maintenance allows our commercial HVAC technicians to comprehensively inspect and clean your HVAC system. This inspection process includes checking for any repair needs so you can get them on your schedule right away, checking for parts that need adjusting lest they become loose or damage other components of the system, and checking how clean the system is. The cleanliness of your commercial heater can actually have a big impact on how efficiently it operates.
Why should you care about efficiency? Because when a heater works as efficiently as it should, it's slower to accumulate wear and tear, and this means it lasts longer. Shouldn't your business get some bang for its buck?
You'll Have Reliable Heating
If you can rely on anything within your business, we think it should be your commercial HVAC system. But the only way your commercial heater can work as well as it's expected to is if you have routine annual maintenance.
You'll Save Energy
You have enough to worry about with running your business without overhead costs like your heating bill eating up revenue. When a heater runs more efficiently, it means it uses less energy, and that's more money toward your bottom line.
The average commercial HVAC system loses about 5% of its energy efficiency every year that a tune-up is missed. This means your company's utility bills will keep increasing. With everything else on your plate, you might not even notice this at first. But the cost can be significant, so it's worth preventing.
You'll Have Fewer Repair Needs
Part of professional maintenance is that our professionals alert you to any repair needs that might be lingering in your commercial HVAC system. This allows you enough time to get repairs on your schedule so that the heater doesn't fail on you when you need it the most. The last thing you need is a business interruption, let alone uncomfortable employees, customers, or tenants.
Ask About Our Commercial Maintenance Plan!
Comfort Flow provides an extensive commercial HVAC maintenance plan. As business owners ourselves, we understand the importance of timely service. That's why you can turn to us for your maintenance needs.
For reliable commercial HVAC service in Cottage Grove, OR, look no further than Comfort Flow Heating. Contact us today!