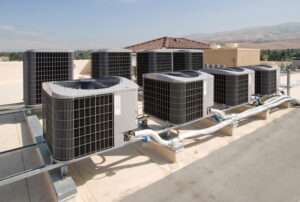 Investing in a new HVAC system can be a bit overwhelming for even the most skilled business owner or commercial property manager, especially when it's an emergency replacement. There are many options to choose from, with one of the most popular being rooftop packaged units. This is often one of the best options for commercial buildings for several reasons. 
Why a Packaged System?
There are a number of benefits to packaged rooftop systems. While every property is unique and your needs must be taken into consideration before a purchase is made, there are a few benefits to purchasing these units. Here are some of them.
#1: They Save Space
Instead of having to make room for the large heating and cooling systems most businesses need on the ground floor (or any floor of the building for that matter), rooftop systems are a better option. 
They can function just as well on the roof, and they do not have to take up valuable floor space inside that commercial space. In any building, every inch of square footage can make a big difference in the space's function, layout, and use. Why put large systems like this anywhere but the roof, then?
#2: Better Operation
There are a few reasons packaged rooftop systems make sense operationally. First, all of the noise that comes from running them is placed outside the building. That makes it quieter in the building. Improving indoor noise levels is always a benefit in a professional space of any type.
Another benefit is that they are easier to access. Many business owners wouldn't think the roof is accessible, but for a professional technician that needs to handle the repairs, it is far easier to access the roof than a small hole in the wall in a room in the building. More so, there's much more room to walk around and access various components of the system when it's on the roof. There's no need for anyone in the business to access the roof though -leave that to the pros.
#3: It's More Efficient
Some of today's more modern HVAC systems are far more energy-efficient than models placed in commercial buildings. Many have a higher SEER and HSPF rating, making them a better investment for many business owners. It is critical to find the most efficient solutions for even a moderately sized commercial building. Costs add up quickly when spread over various floors or units of the building.
A rooftop packaged system may be the best option for your specific needs. To find out if that is the case, have a professional inspect your current layout and determine if a move to the roof is economical. If you already have a unit on the roof, keeping it there tends to be highly affordable and easy to switch out. Still, it is wise to speak to a professional who can give you insight into what is the most affordable solution for your needs.
For professional commercial air conditioning service in Eugene, OR, contact Comfort Flow Heating today!