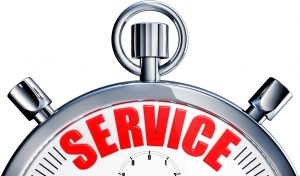 There's an old saying, dating back to at least the 17th century: "March enters like a lamb, leaves like a lion." Or it might be "enters like a lion, leaves like a lamb." You see both. But the message is the same: March is arguably the most unpredictable month for weather. Most of March is still officially winter, but the movement toward warmer weather has started. Your HVAC systems have to be ready for any shift in temperature extremes.
Regardless of the swings in March weather, for HVAC technicians this is the month to start working on air conditioning maintenance. Steady warm weather followed by hot weather isn't far away. Homeowners who have their cooling systems inspected and tuned-up this time of year will be well-situated for the first heat wave.
A Reminder of Why AC Maintenance Is Vital
Although there are a few air conditioning maintenance steps you can handle on your own, the majority of it must be left to professionals. Air conditioners are complex pieces of refrigeration equipment, and only a licensed technician can do all the necessary inspections and adjustments.
Here's what a professional maintenance technician does for your air conditioner that makes this job so essential for home cooling:
Checking for potential repair issues: Although air conditioners are designed to last for years, their multiple moving components and individual systems present many areas where malfunctions can occur. During a maintenance visit, a technician provides an AC with a thorough examination that looks into all the zones where trouble might be brewing. Some of these tasks include checking on the refrigerant level and pressure to see that there are no leaks, looking for stress and strain on the motors, examining electrical connections, and checking on the condensate pan and drain.
Adjustments and cleaning: There are multiple small adjustments (tightening electrical connections, calibrating the thermostat, lubricating moving parts) that make an enormous difference in how well an AC operates over the season. These adjustments and cleanings not only help ward off potential repairs, they help the system run at its highest energy efficiency so it doesn't drain money and raise utility bills.
Schedule repairs: If a technician finds trouble that may soon lead to a repair need or a complete breakdown of the system (such as a compressor under extreme strain), they can schedule timely repair work so the AC doesn't start off the spring in wobbly shape.
To schedule your spring air conditioning maintenance in Eugene, OR or elsewhere in Oregon, all you have to do is contact our team. They'll be happy to go over our Energy Savings Agreement, which makes regular maintenance for both your air conditioning and heating system easier—and it offers some special benefits as well, such as a 15% discount on repairs, protection from price inflation, and priority customer status. The agreements are offered in 1, 2, and 3 year plans so you can find one that fits your budget.
If you're happy with our service, we love referrals! If you write an online review with Google, Yelp, Angie's List, or City Search, we will send you a $10 gift card. More details here.
Comfort Flow Heating Serves All of Oregon with exceptional air conditioning and heating.