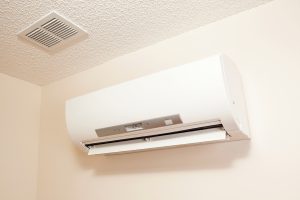 We have previously recommended that homeowners look into having a ductless mini split installed for both heating and cooling. These systems are ideal for certain types of homes and applications, such as building a new house, providing comfort to add on rooms, or for older houses that lack the space to put in ductwork.
But how do these ductless systems actually work? When people think of heating that doesn't use ducts, their thoughts will usually go to boilers. But ductless mini splits are forced-air heating systems that blow around heated air (or cooled air when required). How is this possible without ducts to distribute the air?
Ductless Mini Splits Are Heat Pumps
First, let's look at the core of a ductless system, which is that it's a type of heat pump. A heat pump is essentially an air conditioning system that can alter the direction it works. When the heat pump is working as an air conditioner, it absorbs heat from indoors and moves it outdoors. A blower fan sends the cooled indoor air through the ducts. When the heat pump switches to heating mode, the process flips around. Now heat is absorbed from outside and brought inside. The blower fan sends the heated air into the ducts.
Now, how do we move from this type of operation to one that needs no ductwork? It requires looking at the window air conditioning unit.
Point Heating and Cooling—Centralized!
The window AC is still around, and useful for apartment buildings and some older office buildings. Although we don't recommend any house rely on them for cooling (they eat up window space, they're inconvenient, and they aren't energy efficient), they do help illustrate how a heat pump can operate without ducts. A window AC provides "point cooling," which means its blower fan sends cooled air directly into the space. You don't need ducts with a window AC!
Take this concept, and instead of using multiple bulky window ACs that each have to exhaust heat outside through their outdoor half, use a series of air handlers mounted on the walls. Each air handler contains a blower and refrigerant coil. A refrigerant line and condensate line passes through a small hole in the wall behind the blower and connects to an outdoor unit. All of the blowers hook up to this single unit, which serves as the place where heat is exhausted (in cooling mode) and absorbed (in heating mode).
Presto! You have "point cooling" like a window AC (and "point heating" as well), but it's centralized through the outdoor unit. The air handlers are unobtrusively mounted on the walls (often above windows) and each can be operated separately from the others so that you can choose to cool and heat only the parts of the home that need it.
Want to Know More?
If you want to know more details about ductless mini splits and if you home is right for one, talk to our specialists in Eugene, OR. They can answer all your questions and arrange for the service you need for great comfort. We install the best Mitsubishi ductless mini splits, and our experienced team will find the right power and energy efficient units that will match your needs.
Comfort Flow Heating serves all of Oregon with the best quality heating and cooling.