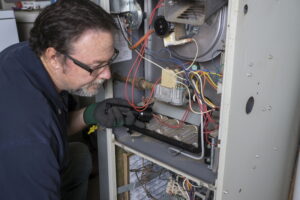 When you live somewhere that's consistently chilly as it is here in the Salem area, you need a strong heating system to keep you cozy during the winter. Many homeowners have a furnace in place to get this job done. In fact, most homeowners choose this system type—so we are pretty familiar with them! This means we know all the ins and outs of their service, and what type of repair needs are most common with them as well. Remember, just like any other complex piece of machinery, your furnace will need repairs.
You can prevent the worst of repair needs with thorough professional maintenance tune-ups. During these appointments, our professionals comprehensively inspect your furnace, making adjustments and cleaning the system as necessary. All of this serves to help the system run more efficiently, powerfully, and to help prevent the biggest repair needs you might face. But your system can still experience malfunctions between tune-ups, and for this reason it's vital that you know the signs of a furnace in disrepair.
Loud or Unfamiliar Sounds
If you've had your furnace for a while, you are probably familiar with the normal day-to-day noises it makes. When that system gets noisier than usual is when you want to pay attention. You're likely hearing signs that your heater needs repair.
These loud and disruptive noises can include something like a mechanical shrieking noise—typically indicative of a motor bearing wearing down—grinding—usually a sing of motors that need lubricating—or even hissing or clicking—both of which are signs of a cracked heat exchanger and require immediate professional attention.
Short-Cycling
Have you noticed your furnace is rapidly turning on and off? Something is stopping the furnace from completing a full heating cycle. This puts excess strain on the components of the heating system, increases your energy costs, and does not give the furnace time to thoroughly and evenly heat your home.
It may be a simple problem that needs fixing—something like a clogged filter. We encourage our customers to check the air filter on their own, every 1–3 months. Changing this is one part of maintenance that homeowners can and should do on their own. Alternatively, it can be a bigger problem like a furnace that wasn't appropriately sized to begin with. Unfortunately, the latter means you'll need to have the system replaced if you want a furnace that will actually operate affordably.
Higher-Than-Average Energy Bills
Take a look at your energy bills this fall and winter. Are they much higher than what you paid last year? Perhaps they're much higher than what your neighbors are paying for similar use? If so, this is a sign that something is causing your furnace to work inefficiently, and you should at least have it inspected by a pro.
Uneven Heating/Cold Spots
There's a little bit of good news here—this probably might not be caused by the actual furnace malfunctioning but instead a breach in the ductwork. It's still a hassle of a problem to deal with, but not as detrimental an issue. Same goes for a miscalibrated thermostat, which can have the same results. One final potential cause for uneven heating or cold spots in the home is drafty doors and windows.
Of course, we're not going to totally rule out an actual furnace problem in this blog post. After all, without seeing the system we can't tell you anything for sure. But give us a call and we'll help you figure it out!
For quality furnace repair in Salem, OR contact Comfort Flow Heating.