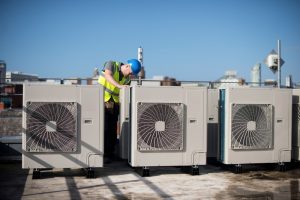 During spring is the time when we emphasize to our customers how vital regular HVAC maintenance is. Preparing for the approaching hot weather with an inspection and tune-up for the air conditioning system is the essential way to prevent repair troubles, energy waste, and shortened equipment life.
This maintenance isn't only for homeowners. It's doubly important for a commercial space, no matter its size or function. Proper air conditioning not only handles comfort for employees, customers, clientele, tenants, etc. but is key to protecting equipment from overheating and helping with process. Where a home only needs worry about the comfort of a few people, a business must concern itself with the comfort of many—and that includes many of the machines inside.
We Recommend a Commercial HVAC Maintenance Plan
As a busy commercial business owner or operator, you have plenty to deal with every day. It's easy to allowing scheduling pre-season maintenance for the cooling system to slip past you. But when you sign up for one of our maintenance plans, we'll contact you with a reminder that it's time to inspect and tune-up this vital equipment before summer arrives.
Spring maintenance takes between one to two hours for each cooling unit. The job isn't a cursory check; our commercial technicians do a thorough inspection and adjustment for the units.
Changing the air filters
Lubricating all moving parts to reduce stress
Safety inspections to protect the building and everyone in it
Tightening electrical connections
Checking on the refrigerant charge
Cleaning the outdoor and indoor coils for better cooling operation
Thermostat calibration to improve precision
Performance testing
Thorough check on rooftop units
If our technicians encounter a place where the HVAC system needs repairs to stave off a worse problem or a drop in performance, they'll inform you and help arrange for the necessary fixes in time to beat out the summer heat. For example, if a technician notices a drop in the AC's refrigerant charge, it means there is leak somewhere in the system. Simply filling up the lost charge won't remedy this; the technicians will arrange to have the leaks sealed.
There are additional benefits to signing up for one of our maintenance plans aside from the many benefits it gives to your HVAC system's performance. Feel free to talk to one of our team members about the Comfort Flow Heating Energy Savings Agreement. (And remember, the agreement includes service in the fall to take care of the heating system.)
Enroll Now
To enroll in one of our commercial HVAC plans in Eugene, OR or elsewhere in the state, speak to a representative today. We have been part of the Lane County business community since 1961, and we're a trusted partner for more than 20,000 businesses and homeowners throughout Oregon. Some of the projects we've done include working with the University of Oregon, Cascade Manor, the Eugene Country Club, Walmart, Safeway, Chase Gardens, Jerry's Home Improvement Center, Woolworths, River Road Medical, and many more. We can see you have the finest HVAC for your commercial building.
Comfort Flow Heating serves all of Oregon with air conditioning and refrigeration service.