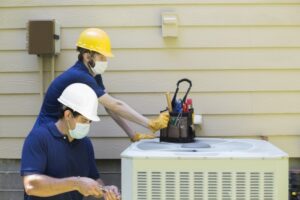 While it may surprise you, some homeowners think that AC installation is a DIY project. There are many home improvement projects you can do yourself, but AC installation isn't one of them. In fact, for your AC unit to be up to code you have to use an expert professional with the correct certifications for handling electrical work. 
Plus, a professional ensures that the job is done right the first time. If you need AC installation in Salem, OR, give our team a call. We can talk you through the installation process and schedule a free consultation. After that, we can offer options and help you choose the best AC that fits your family's needs. In the meantime, you can read on to learn why professional installation is so important. 
Years of Experience
We all have friends and family who claim to have different areas of expertise. You may have someone who offers to help you replace a sink in your bathroom, install new floors, or work on your AC unit when something is wrong. But when it comes to AC installation, you don't want to have just anyone do the work – even if it saves you money.
AC units come in all shapes, sizes, and functions. While all HVAC systems work similarly, they have different setups that are often unique to an individual home. Plus, each brand has its own complex set of "rules" to help your system run with the best efficiency. Certified AC professionals work on AC units day in and day out. They complete residential and commercial installations on a regular basis. 
And there are some things that you only learn when you're working hands-on to install air conditioners over time. You learn the installation quirks and tricks that help make installation even easier and more efficient. The average homeowner doesn't have enough niche knowledge to be able to successfully install an AC unit without any hiccups. 
Warranty
HVAC systems include a warranty that covers parts and labor if anything goes wrong for a specific timeframe following installation. This gives you the peace of mind that if something doesn't work right, you won't be nickeled and dimed for repairs that should have been done right the first time.
And let's face it, things do go wrong. Even with the best installation, parts may be defective. Keep in mind that this warranty may be voided if you allow someone to work on your AC unit if they aren't certified. If you decide to install your AC unit yourself, you are solely responsible. There is no warranty and you can't call the experts for help without paying for their expertise. 
Energy Efficiency
AC professionals know how to ensure that your unit is using energy efficiently. Each home has a unique design, and the ductwork and other components need to be placed in a way that works for your needs. Plus, ductwork has to be properly sealed with a clear path to air vents in your home. If your AC has to work harder to cool your home due to poor installation, it takes on more wear and tear. This can shorten the life of your unit and cost more in repairs later on. 
Your comfort is our business! Comfort Flow Heating serves all of Oregon, so contact our team today to schedule your appointment.