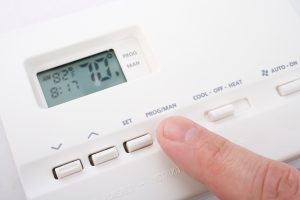 It's always tempting to update to the newest and "shiniest" piece of technology available. But it isn't always the best path to take. When it comes to comfort in your house, you should be cautious of trying to make any updates to your HVAC system that aren't done in connection with trained professionals.
One trap that we sometimes see homeowners fall into is making an upgrade to their thermostat by purchasing a Wi-Fi enabled "smart" thermostat from an online retailer and then either trying to install it themselves or have an HVAC company install it for them. If you want to upgrade your comfort system with new climate controls, call on the professionals ­first so they can guide you toward the best solution—and away from some expensive and even damaging missteps.
"Wait, what's wrong with a Wi-Fi thermostat?"
There's nothing wrong in general with wireless thermostats and types of "smart" thermostats. In fact, we often recommend them as part of a new HVAC installation, since they provide a number of excellent benefits for homes:
They offer remote access to the comfort system. If you have a smart phone, tablet, or computer and an Internet or satellite connection, you can change the programming on the thermostat from wherever you are—even thousands of miles away!
Smart thermostat technology learns from your history of settings and then develops a program to maximize energy savings.
Wi-Fi thermostats can also be connected to other systems in the home, such as security and lights, putting even more control in your hands.
However, here's the pitfall to avoid
The important information to know is that ­a new thermostat installation might void your equipment warranty. For many HVAC systems, the warranty is nullified if the thermostat originally installed with it is changed. This is why we don't recommend purchasing thermostats online, no matter what kind of "deal" you can get on one.
Compatibility is what's at issue. An advanced thermostat with smart technology may not be able to work well with the current HVAC system. It could even cause damage to it. This is why putting in a new thermostat may void the warranty. Even if the new thermostat doesn't create damage, it likely won't function the way it should, and you won't receive all those benefits you were hoping for.
How to upgrade your air conditioning
If you are looking to upgrade your air conditioning system in Eugene, OR or elsewhere in the state, the best place to start is to contact us for an appointment. We can suggest improvements and installations that will work best for you, including ideas for thermostats. If you have an older HVAC system, the best improvement is usually to have the system replaced, rather than to try to put a mismatched Wi-Fi thermostat on it. We can recommend other options for improvements, such as including zone controls in the installation. Zoning allows you to control the temperature in different parts of the house separately through local thermostats. You only have to cool (or heat) the rooms that need it.
Comfort Flow Heating serves all of Oregon. We've been a trusted member of the Lane County business community since 1961.