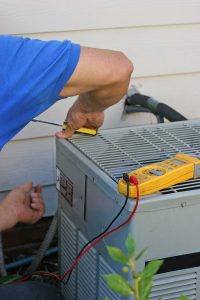 If you're asking this question, it's probably because you've noticed something wrong with your central air conditioning system, but it isn't affecting cooling performance. It may be an odd grinding noise, the compressor starting and stopping more often than normal, ice appearing along the evaporator coil, an odd odor from the vents, or hot spots in some of the rooms. With fall officially starting and our cool season about to set in, you want to know if it's really worth it to schedule repairs with HVAC technicians for the last couple weeks of warm weather.
The answer is: Yes! It's not only worth it, it can save you money and a lot of discomfort in the long and short-term. Air conditioner repairs should be handled as soon as possible after they're noticed, no matter how outwardly minor they may seem. Call our Eugene, OR air conditioning repair professionals—anywhere you are in Oregon!—and we'll see that your AC doesn't end the hot season on a sour note that will lead to later trouble.
Reasons Prompt AC Repair Is Smart This Time of Year
It promotes longer equipment life: The most expensive repair an air conditioner may need is to have to be replaced earlier than expected. You should be able to get 10–15 years, sometimes more, from your central air conditioner (provided you keep up with annual maintenance). But if you allow a repair issue to continue without doing anything about it, this life expectancy will start to drop.
You'll stop problems from worsening and spreading: Any malfunction that increases stress on the AC (i.e. most of them) will create a chain reaction where other parts start to fail. The first problem will also get worse, possibly leading to a complete AC breakdown. The upshot is that the air conditioner will be more expensive to repair the longer it takes to schedule the repair.
It prevents sudden breakdowns: We still have some hot days ahead, and Oregon weather can take sudden turns during the fall, sending heat waves our way. Do you really want to face a higher demand on your cooling system when your cooling system may not be able to handle it? A breakdown on a hot day may leave you stranded for hours until our techs can reach you. We'll try out hardest, but there are probably other people out there in the same situation who are also calling for our help. The best solution: make sure it doesn't happen in the first place by contacting us early for repair service.
It saves money on energy bills: The strain that can lead to additional repairs or a broken air conditioner will also cause the air conditioner to work harder than necessary. This means a larger drain on electrical power and a subsequent rise in your utility bills. Why spend more on the last month or so of cooling than you need to? This is another way that prompt professional air conditioning repair saves you money.
Comfort Flow Heating serves all of Oregon! We have 24-hour emergency service available to see that your AC stays in top shape.