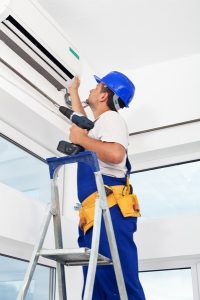 If you've heard anything about ductless mini split heat pumps, you may have heard that they're simpler to install in a home than a standard central heat pump that uses ducts. This is true, but it's not true that they are so simple to install that a non-professional can handle the work. Unfortunately, misinformation about ductless systems is common. People imagine they can save money if they tackle the installation work as a DIY project—but this is a mistake.
If you are interested in ductless heating and ductless air conditioning in Eugene, OR, we recommend you speak to our technicians first. They can help you make the choice about whether a ductless system is ideal for your specific home needs. If it is, they'll see that you have a fast and accurate installation to ensure the ductless system you end up with does exactly the job it should.
Why Ductless Heating and Cooling Requires Professionals
The set-up of a ductless mini split heat pump (which can work as both a heating and air conditioning system) is different from the conventional heat pump and AC in that it uses a single outdoor unit and multiple indoor units, rather than just one outdoor and one indoor unit. The indoor units aren't hooked up to a ductwork system but are instead installed right inside the rooms. Each blower unit is mounted flush to an exterior wall and connects through the back of the wall to the outdoor unit.
Although installing a ductless system requires less labor than putting in a standard split system, the work is still intensive and requires the best in tools and training to ensure it goes correctly. And from the start, it's necessary to have HVAC experts to make sure the new heat pump is accurately sized to meet the home's needs and that there are sufficient indoor units to distribute air. You never want to make a guess about the conditioning power necessary for comfort and energy savings in your house: if you get this wrong, your home will either not have enough comfort or the system will overwork and run down rapidly.
Putting each of the indoor units onto the walls requires first putting up special mounts and drilling holes to the outside. An improperly mounted wall unit can cause it to start to sag on the wall and eventually tear away and fall down. This isn't a job as simple as hanging up a portrait!
Finally, putting in the outdoor cabinet with the compressor is a major task, and this part of the job is no different than installing standard ductless ACs and heat pumps. If you are replacing an older air conditioning condenser, you'll definitely need a professional to remove and safely dispose of the original cabinet.
Save Time and Money with the Experts
No matter how much you may think you can save with a DIY installation, most of it will vanish because of the time and effort and possible mistakes that will occur. When you turn to our experts for your ductless mini split installation, we'll get the job done fast and right so you can start enjoying an efficient and effective system right away.
Arrange with professionals to install your ductless heating and cooling. Comfort Flow Heating serves all of Oregon.