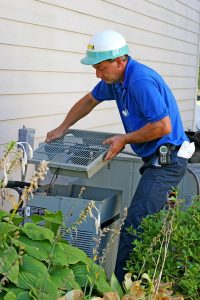 When something goes wrong with your air conditioning system, it can be a big problem. There is the obvious immediate issue of poor cooling for your home along with the additional troubles of higher energy bills and potential added strain on the system. An AC in need of repairs isn't something to ignore.
But a malfunctioning AC isn't something you should try to fix on your own. We know that the internet is rife with DIY solutions for a faulty air conditioner, but opening up this system and trying to fix it yourself is not going to end up the way you want it to. In a majority of cases, DIY repair attempts often end up damaging an air conditioner more than anything else. Your best option if something goes wrong with your AC is to contact a professional for air conditioning repair in Eugene, OR.
Is There Anything I Can Do for My AC?
We have some good news. There are a couple of things that you can do to help keep your air conditioner running and reduce the chances that it will need frequent repairs.
Change the air filter: It is recommended that you change the air filter for your HVAC system every one to three months. If you haven't done this already, make sure to change your AC filter to ensure that airflow into the air conditioner stays strong.
Manage thermostat settings: Try to keep your thermostat settings reasonable even on extremely hot days. Your thermostat can only go down 20°F below what the outside temperature is. If possible, try to make sure that your air conditioner is set to 75°F and up to get the most effectiveness and efficiency from your air conditioner.
Reach Out to a Pro for Repairs If You Notice Trouble
So, does everything else get left to the professionals? Yes, it does! That's what we are here for, after all. The professional technicians at Comfort Flow Heating can provide expert repairs that address a wide range of issues in your air conditioner. Contact us for anything that is messing with your AC system such as:
Strange noises: Hissing, rattling, clanking, screeching, and any other noise that isn't normal to hear from your AC is worth a call to a pro.
Weak airflow: You just changed your air filter so you probably know that it isn't hindering airflow. There could be leaky ductwork or even struggling fans to deal with.
High energy bills: Have you noticed that running your air conditioner has sent your electricity costs higher than usual? While your electricity use will fluctuate, a large increase is a sign of a problem.
No cool air: Your air conditioner is made to produce cool air. If it is instead pumping air that is just as warm as the air in the house, this is a sign something is wrong. If you have a heat pump, make sure the system isn't in heating mode and, if it isn't, reach out for a pro all the same.
Having air conditioner trouble? We are here to help. Contact Comfort Flow Heating to schedule repairs.