We're proud to showcase the great people who work at Comfort Flow Heating. Each quarter, we shine a spotlight on one of our employees who displays all of what makes us the HVAC contractor people want to work with again and again. It's people like this that have made us trusted for more than 50 years.
Our 2nd Quarter Employee Spotlight goes to … Joe Garner!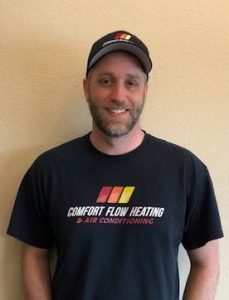 Joe has a long history with us. He started working for Comfort Flow almost 19 years ago. Today he's our New Construction Field Supervisor. He says his favorite part about working at Comfort Flow is his co-workers. (Aw, shucks!) His hobbies are hunting, fishing, hiking, and, well, just about anything outdoors! He and his wife, Mindy, have two children, Darren and Wyatt.
Congratulations to Joe, and we look forward to many more great years with us!
Call Comfort Flow Heating for all your air conditioning and heating needs. We serve all of Oregon.