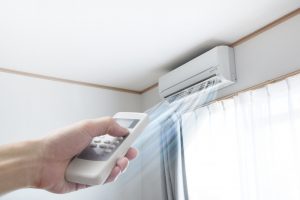 When it comes to heating and cooling your home, wouldn't it be great if there was an effective way to do so from just one system? Well, there is! A ductless system, also called a ductless mini-split or a ductless heat pump, is becoming the preferred option for a number of homeowners throughout the communities we serve, and for good reason.
They're great for keeping your home warm in the winter and comfortably cool in the summer. So, if you're looking to replace your air conditioner and your heater isn't doing so hot either, consider going ductless!
Choosing the Right HVAC System for Your Home
We get it, choosing the right AC and/or heating system for your living space can be overwhelming. After all, there are a number of options to choose form. Our best advice is that you talk to a trained and experienced professional before making a final decision. Not all homes are great candidates are a good candidate for a ductless system, after all, so you should be aware of your specific needs before investing in a system.
Our experienced technicians can help you determine if this is a worthwhile investment for your household and home comfort. Keep reading to learn more about what makes the ductless system the right choice for many homeowners.
The Power of Going Ductless
As the name implies, a ductless system is a heating & cooling system that doesn't rely on a network of ducts. Rather, it utilizes one outdoor condenser unit, which is connected via refrigerant lines to air handlers that are installed throughout the living space.
A ductless system works similarly to an air conditioner, moving heat from one place to another. A reversing valve is all that's needed to switch the flow of refrigerant, allowing for summertime cooling and wintertime heating. To cool the home, heat is absorbed from indoors and moved outside, and to heat the home, heat is absorbed from the outside and moved indoors. This provides a variety of benefits, including:
Versatility
Since a ductless heating and cooling system can both heat and cool your home, it allows for year-round comfort. Just with the flip of a switch, the system can go from cooling mode to heating mode, and vice versa.
Space Saving
Installing ductwork, or repairing it if you already have it in place, is a big job. Without this ductwork, you'll save space in your home, as the system uses a small outdoor unit and up to 4 indoor air handlers that are mounted high up on the walls of each of the rooms you want them in, out of your way.
Additionally, the elimination of ductwork means the elimination of common indoor air quality problems that they introduce.
Cost-Effective
Ductless systems operate on less electrical power than other systems. Additionally, they work more efficiently than other heaters in the wintertime, because instead of using power to generate heat, they transfer heat.
Are you looking to install a ductless heat pump in Eugene, OR? Then contact Comfort Flow Heating today!